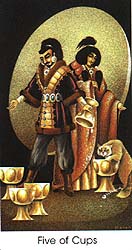 Cat People Tarot
Five of Cups (Disappointment)
A couple faces opposite directions; they are going their separate ways. They stand together but do not touch. Their cups are empty, as the cat discovers to its disappointment. Their backs are to the window, which lets in the light and beckons to better things, but they are in a rut and fear to try something new.

The Cat People Tarot paints a picture of faraway lands trod by mystical archetypes and their feline companions. This deck is a perfect tool for dreamers and idealists, and is a great choice for divining the nature of human imagination. If you would like your own copy of the Cat People Tarot, you can buy it now!