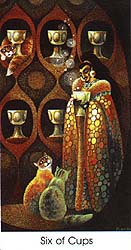 Cat People Tarot
Six of Cups (Pleasure)
The cups sit in their niches like reliquaries, the repositories of forgotten hopes and abandoned dreams, all neatly put away to age and mellow, like good wine. The robed figure contemplates the bittersweet memories evoked by one of his cups. He is an aristocrat whose outward life has been successful, as his rich robe, jewels, and long hair indicate. Nevertheless, he feels a bit unsatisfied, as if something is missing from his life. His companion cats look on expectantly, hoping for a tangible tidbit. Being cats, they have no regrets for their past behavior and experiences. Savoring the here and now, they never look back.

The Cat People Tarot paints a picture of faraway lands trod by mystical archetypes and their feline companions. This deck is a perfect tool for dreamers and idealists, and is a great choice for divining the nature of human imagination. If you would like your own copy of the Cat People Tarot, you can buy it now!