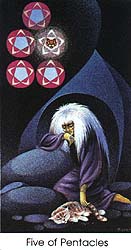 Cat People Tarot
Five of Pentacles (Worry)
Five grieves of the only thing that remained to love her, a scraggily cat of the streets. Her loss is now complete as symbolized by the holelike frame around her body. She has failed in her efforts to save the cat, and in her misery she does not notice that the cats spirit has appeared in one of the pentacles, causing it to glow with hope reborn. The apexes of the pentacles and of the frame around the hole point heavenward as symbols of hope.

The Cat People Tarot paints a picture of faraway lands trod by mystical archetypes and their feline companions. This deck is a perfect tool for dreamers and idealists, and is a great choice for divining the nature of human imagination. If you would like your own copy of the Cat People Tarot, you can buy it now!