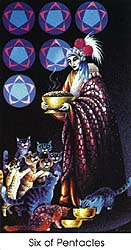 Cat People Tarot
Six of Pentacles (Success)
An elderly lady, one of those quiet, unsung cat persons who dwell in every city, large and small, lovingly cares for any stray feline that comes along. These cats belong to no one; they are denizens of back alleys, cellars and unused caves. They are tough, wary and wise, as they must be to survive. Yet they have come to trust the cat lady, to welcome not only her gifts of nourishing food but also her gentle petting of their heads and her soft, warm words. The lady herself is in modest circumstances, not poor, but certainly not rich. She can afford some unpretentious jewelry, without which she'd feel unfit to appear before any cat. She willingly shares her modest meals with creatures less fortunate than she, for whatever she lacks in material things, she makes up for in love. Like windows in a wall, the pentacles are placed in a stable position to symbolize the dependability of her generosity.

The Cat People Tarot paints a picture of faraway lands trod by mystical archetypes and their feline companions. This deck is a perfect tool for dreamers and idealists, and is a great choice for divining the nature of human imagination. If you would like your own copy of the Cat People Tarot, you can buy it now!