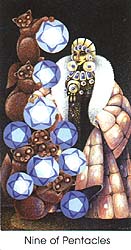 Cat People Tarot
Nine of Pentacles (Gain)
A master sculptress proudly shows her latest creation, a work destined for display in the grand hall of a public building. She has worked long and hard to produce this particular piece, and has years of apprenticeship behind her. She is dressed in rich robes and a tiara to celebrate the statues forthcoming installation. The queenly tiara symbolizes the personal satisfaction, public acclaim and financial success that have come to her as an accepted master and creator of things of beauty. The sculpture itself, composed of a complex interlocking of sinuous cats with their pentacles, symbolizes the interdependence and interrelation between all life forms, and between life forms and the environment.

The Cat People Tarot paints a picture of faraway lands trod by mystical archetypes and their feline companions. This deck is a perfect tool for dreamers and idealists, and is a great choice for divining the nature of human imagination. If you would like your own copy of the Cat People Tarot, you can buy it now!