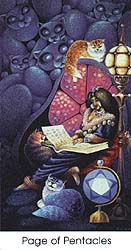 Cat People Tarot
Page of Pentacles
Cats have long been the companion of artists, writers, philosophers, scholars and other contemplative people. Cats love quiet, serene and stable environments. The companion cats of the Page of Pentacles are all well-fed, well-loved and content.

The background wall is heavily sculpted in high relief, with all spaces filled to symbolize the artistic and worldly wealth of the Page's environment. She is well-paid because she is not only efficient but can come up with workable solutions to many problems. Knowledge is power and she knows it. A circular lighting fixture, in harmony of the circular forms of the cat sculptures on the wall, symbolizes a light in the darkness, or knowledge conquering ignorance. The pentacle appears as a decorative object and as a mathematical figure of precision, clarity and logic.

The Cat People Tarot paints a picture of faraway lands trod by mystical archetypes and their feline companions. This deck is a perfect tool for dreamers and idealists, and is a great choice for divining the nature of human imagination. If you would like your own copy of the Cat People Tarot, you can buy it now!