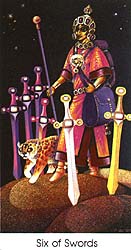 Cat People Tarot
Six of Swords (Science)
Travel in the terrain of the Outer Regions is always hazardous. One has to be properly prepared and knowledgeable in the ways of the natural environment in order to survive. Solitary travelers must also learn to conquer their fears of loneliness.

The Six of Swords shows an experienced businesswoman returning from her journey. As she is near her destination, she has removed her simple traveling clothes and put on a fresh dress and ceremonial jewelry so that all will know that her journey has been profitable and successful. Once in sight of her destination her step becomes refreshed, renewed with energy. Her jewelry and headdress, which look bulky, are actually designed to fold up into a compact bundle. The woman walks under a peaceful nighttime sky. The jewels in the hilts of the swords serve as beacons welcoming her home. It's common for women throughout the Outer Regions to make long journeys alone as they are quite capable of taking care of themselves. Like most travelers, she is accompanied by her companion cat, who gives protection and alleviates loneliness.

The Cat People Tarot paints a picture of faraway lands trod by mystical archetypes and their feline companions. This deck is a perfect tool for dreamers and idealists, and is a great choice for divining the nature of human imagination. If you would like your own copy of the Cat People Tarot, you can buy it now!