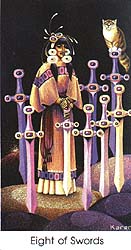 Cat People Tarot
Eight of Swords (Interference)
A woman is surrounded by swords that are arranged to symbolize her imprisonment by her inner turmoil. She appears calm and resigned but she is actually in a state of anguish and conflict. She is tied to one sword, a captive to her pain. The cinder cone stirs to life, symbolic of her inner struggle. Only the cat remains calm, it has its freedom.

The Cat People Tarot paints a picture of faraway lands trod by mystical archetypes and their feline companions. This deck is a perfect tool for dreamers and idealists, and is a great choice for divining the nature of human imagination. If you would like your own copy of the Cat People Tarot, you can buy it now!