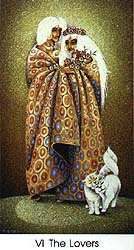 Cat People Tarot
The Lovers
The Lovers are enveloped in a single, all-embracing drape, symbolic of union and harmony that is both physical and mental. The drape is loose and carefree, rather than formal. It has a circle pattern, symbolic of eternity. The Lovers are tanned and light-haired, glowing in their love for each other.

The flowers are tokens of affection, fresh and innocent. Their companion cats echo their feelings with purring and gestures.

The Cat People Tarot paints a picture of faraway lands trod by mystical archetypes and their feline companions. This deck is a perfect tool for dreamers and idealists, and is a great choice for divining the nature of human imagination. If you would like your own copy of the Cat People Tarot, you can buy it now!