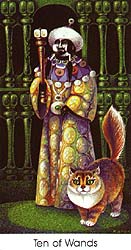 Cat People Tarot
Ten of Wands (Oppression)
The figure on the Ten of Wands is an autocratic figure who has striven to attain the supreme position and who must continue to strive to keep himself there in the face of unseen obstacles and enemies. He will use any means available to keep his position and has no qualms about resorting to lies, deceit, cunning and trickery. Continual watchfulness and suspicion of everyone and everything can put a heavy burden upon one in high office.

The background wands form architectural columns which resemble the bars of a prison. Absolute power, by its very nature, imposes a life of restriction created by protocol traditions, security arrangements and other practical necessities. Two of the columns have developed cracks, symbolic of the uncertainties and problems with power.

Meanwhile the lush fat cat goes about his business unconcerned. The whole edifice could topple and he would still come out a winner. Cats have no concern over who's boss and who isn't. As independent, freewheeling creatures, they do as they please.

The Cat People Tarot paints a picture of faraway lands trod by mystical archetypes and their feline companions. This deck is a perfect tool for dreamers and idealists, and is a great choice for divining the nature of human imagination. If you would like your own copy of the Cat People Tarot, you can buy it now!