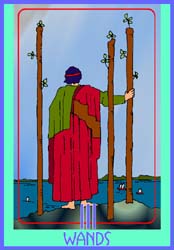 Colman Smith Tarot
Three of Wands (Virtue)
A calm, stately personage, with his back turned, looking from a cliff's edge at ships passing over the sea. Three staves are planted in the ground, and he leans slightly on one of them.

The Colman Smith Tarot is a modern reinvention of the classic Rider Waite deck, infusing the original line drawings by Pamela Colman Smith with colors drawn from the psychedelic digital age.