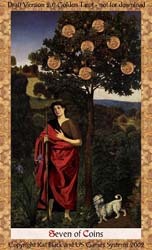 Golden Tarot
Seven of Coins (Assessment)
A man with a staff stands beside a tree on which seven coins grow. He wears simple robes, and a small white dog walks beside him. The landscape is lush and fertile.

The Golden Tarot is a modern celebration of late medieval artwork. This deck is the choice of scholars, for it evokes images of elegance amid barbarism, and the light of virtue in dark times. If you would like your own copy of the Golden Tarot, you can buy it now!