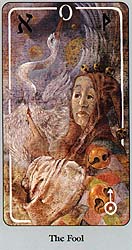 Haindl Tarot
The Fool
The Symbols

Aleph, ox; Wynn, W, joy; Uranus.

The Image

The Fool is a medieval court jester, required to entertain, but also to speak truths no one else would are to express. The wounded swan represents the fall from grace, the parting of humanity from the Garden of Eden. At the bottom is Earth.
The Haindl Tarot weaves a tapestry of haunting beauty from the traditions of Native America, the Holy Grail, the I Ching, Kabbalah and the Norse Runes, and is the deck of choice for mystics and those seeking enlightenment. If you would like your own copy of the Haindl Tarot, you can buy it now!