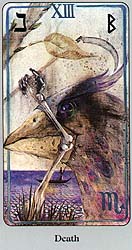 Haindl Tarot
Death
The Symbols

Nun, fish; Ba or Beorc, B, birch goddess or boat; Scorpio.

The Image

The image of the boat belongs to birth as well as to Death; the baby's cradle originally symbolized the boat. The trees and grass signify plants, the bones minerals, the birds, the animal world, and the ferryman, the human world. The peacock's eye in the center signifies looking at the truth in regard to looking at Death. The bird also signifies the soul and the divine potential of a person.
The Haindl Tarot weaves a tapestry of haunting beauty from the traditions of Native America, the Holy Grail, the I Ching, Kabbalah and the Norse Runes, and is the deck of choice for mystics and those seeking enlightenment. If you would like your own copy of the Haindl Tarot, you can buy it now!