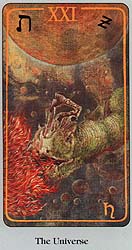 Haindl Tarot
The Universe
The Symbols

Tav, signature; Gebo, G, gift; Saturn

The Image

The Earth, whose bottom half shows, is circled by a dragon. Both are green, the color of new life. The fire is red, color of energy and blood, and white, color of pure thought. The serpent's breath burns away illusion.
The Haindl Tarot weaves a tapestry of haunting beauty from the traditions of Native America, the Holy Grail, the I Ching, Kabbalah and the Norse Runes, and is the deck of choice for mystics and those seeking enlightenment. If you would like your own copy of the Haindl Tarot, you can buy it now!