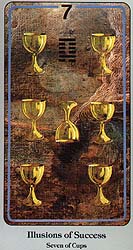 Haindl Tarot
Seven of Cups (Illusions of Success)
I Ching Hexagram 4 Youthful Folly. Six cups are pointing upward symbolizing the appearance of everything going well. The upside down cup in the center, however, tells that success and control are illusions. The card appears bright but the bottom is dark. The background is a desert or perhaps a cave in the desert.

The Haindl Tarot weaves a tapestry of haunting beauty from the traditions of Native America, the Holy Grail, the I Ching, Kabbalah and the Norse Runes, and is the deck of choice for mystics and those seeking enlightenment. If you would like your own copy of the Haindl Tarot, you can buy it now!