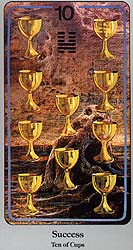 Haindl Tarot
Ten of Cups (Success)
I Ching Hexagram 46 Pushing Upward. Stones push up from the surging sea. An ancient rock has a dark hole at its center, signifying mystery. The black dirt is fertile.

The Haindl Tarot weaves a tapestry of haunting beauty from the traditions of Native America, the Holy Grail, the I Ching, Kabbalah and the Norse Runes, and is the deck of choice for mystics and those seeking enlightenment. If you would like your own copy of the Haindl Tarot, you can buy it now!