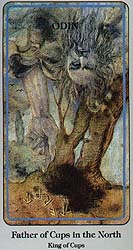 Haindl Tarot
Father of Cups (Odin)
Odin hangs from the world tree in order to bring up the runes from the dark well of Mirmir. He has offered one of his eyes to Mirmir.

The Haindl Tarot weaves a tapestry of haunting beauty from the traditions of Native America, the Holy Grail, the I Ching, Kabbalah and the Norse Runes, and is the deck of choice for mystics and those seeking enlightenment. If you would like your own copy of the Haindl Tarot, you can buy it now!