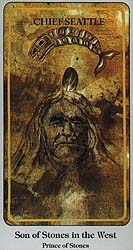 Haindl Tarot
Son of Stones (Chief Seattle)
Chief Seattle was one of the last leaders of a nation of Native Americans on the northwest coast of North America. His hair blends into the rock. The eagle feather, a symbol of the Plains peoples, indicates that he spoke for all the Natives. The lightning bolt from the whale above shows the bond between human and animal.

The Haindl Tarot weaves a tapestry of haunting beauty from the traditions of Native America, the Holy Grail, the I Ching, Kabbalah and the Norse Runes, and is the deck of choice for mystics and those seeking enlightenment. If you would like your own copy of the Haindl Tarot, you can buy it now!