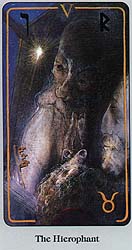 Haindl Tarot
The Hierophant
The Symbols

Vav, nail; Radh, R, wheel; Taurus.

The Image

A grandfather fills most of the picture. To his right appears the father. At the bottom is the back of a boy's head. The boy wears a skullcap. The three generations of men represent the positive value of patriarchal religion and Judaism, the "father" of both Christianity and Islam. The book and the key before it symbolize the torah, the five books of Moses and the "key" to Jewish culture. The book also symbolizes culture and knowledge.
The Haindl Tarot weaves a tapestry of haunting beauty from the traditions of Native America, the Holy Grail, the I Ching, Kabbalah and the Norse Runes, and is the deck of choice for mystics and those seeking enlightenment. If you would like your own copy of the Haindl Tarot, you can buy it now!