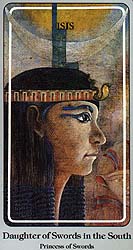 Haindl Tarot
Daughter of Swords (Isis)
Isis's hair falls like water. She is mother of pharaohs; an abstract throne crowns her. Above her third eye, the cobra connects the king to spiritual powers. Hawthor the cow goddess is on the right. She is the goddess of love, dance and ecstasy.

The Haindl Tarot weaves a tapestry of haunting beauty from the traditions of Native America, the Holy Grail, the I Ching, Kabbalah and the Norse Runes, and is the deck of choice for mystics and those seeking enlightenment. If you would like your own copy of the Haindl Tarot, you can buy it now!