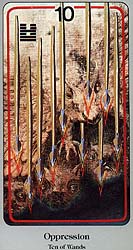 Haindl Tarot
Ten of Wands (Oppression)
I Ching Hexagram 54 The Marrying Maiden. The background shows a bat, a flying mouse, swooping down of frightened cats, a reversal of power. Hope is shown by the feathers on the bat's wings indicating that the bat may transform into a bird, symbol of spirituality. Oppression is giving way to wisdom.

The Haindl Tarot weaves a tapestry of haunting beauty from the traditions of Native America, the Holy Grail, the I Ching, Kabbalah and the Norse Runes, and is the deck of choice for mystics and those seeking enlightenment. If you would like your own copy of the Haindl Tarot, you can buy it now!