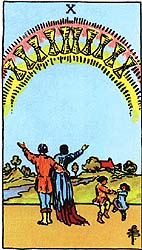 Rider Waite Tarot
Ten of Cups (Satiety)
Appearance of Cups in a rainbow; it is contemplated in wonder and ecstasy by a man and woman below, evidently husband and wife. His right arm is about her; his left is raised upward; she raises her right arm. The two children dancing near them have not observed the prodigy but are happy after their own manner. There is a home-scene beyond.

The Rider Waite Tarot is the most widely recognized Tarot deck, and the first deck published in the 20th century. It was created by members of the Hermetic Order of the Golden Dawn, and is especially suited to questions of a mystical nature. If you would like your own copy of the Rider Waite Tarot, you can buy it now!