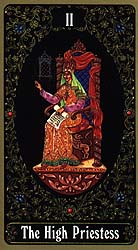 Russian Tarot of Saint Petersburg
The High Priestess
Saint Olga, equal to the Apostles, Grand Duchess of Kiev, was the first in Russia to accept the Eastern Orthodox faith from the Byzantines in 957. The three-barred Russian cross adorns her chest and she blesses with her right hand and holds a scroll in her left hand. The lion that supports the throne symbolizes the paganism of the tribes of ancient Russia. The red cloth emphasizes coming changes: in thirty years, Olga's grandson Saint Duke Vladimir will have baptized all Russian people, helping to unify the Slavic tribes.

The Russian Tarot of Saint Petersburg is the final commissioned work of Yuri Shakov, a master in the lost art of Russian miniature painting. The rich, dark images lend themselves to questions regarding the struggle of the human spirit in trying times. If you would like your own copy of the Russian Tarot of Saint Petersburg, you can buy it now!