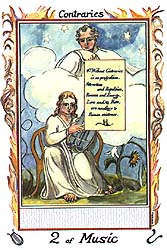 William Blake Tarot
Two of Music (Contraries)
Scientist Isaac Newton looks down from the clouds of matter, hearkening to the gentle vibrations of poet John Milton's song. Milton represents poetic inspiration, Newton is rational inspiration; their essences are quite different yet augment each other. Blake talked about "contrary states" of existence, which are unique and necessary to each other. Contraries are not opposites (which negate each other) but interactive components of a whole, much like the oriental concept of yin and yang. Mercy and justice are contraries, while the negation of mercy is cruelty. Other major Blakean contraries are: heaven & hell, joy & woe, innocence & experience, liberty & society, convention & revolt, ecstasy & despair, and time & space.

The William Blake Tarot explores the mystical vision and artistry of the renowned English painter and poet. Through rich interpretations focused on creative undertakings, it has long been the deck of choice for artists, writers, musicians, and thinkers. For more information about this deck, or to buy your own personal copy, go to www.blaketarot.com.