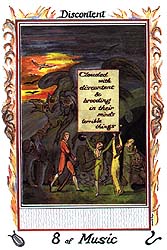 William Blake Tarot
Eight of Music (Discontent)
This watercolor of Blake's illustrates Thomas Gray's poem, "Ode on a Distant Prospect of Eton College," specifically the lines: "Alas, regardless of their doom,/ The little victims play!/ ...Yet see, how all around them wait/ The ministers of human fate.../ The vultures of the mind." These specters are products of one's own discontent, preying upon the frivolous mind. They are transparent because to Blake they are created by ego and therefore unreal -- quite different from the visions created by imagination, which are more real than anything in nature. In the flames of the brightening sky, birds and eagles soar as emblems of hope and creative possibilities. As always in Blake, imagination is the key to personal freedom.

The William Blake Tarot explores the mystical vision and artistry of the renowned English painter and poet. Through rich interpretations focused on creative undertakings, it has long been the deck of choice for artists, writers, musicians, and thinkers. For more information about this deck, or to buy your own personal copy, go to www.blaketarot.com.