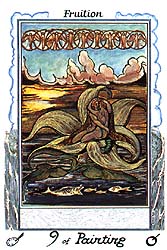 William Blake Tarot
Nine of Painting (Fruition)
This is the first state of an etching from Blake's Jerusalem, showing Albion and Vala embracing in sexual intercourse upon a water lily (water lotus), while the phallic caterpillar of natural sex crawls out from beneath their entwined torsos. Symbolically, the image portrays humankind seduced by nature, and expresses humankind's fascination with bodily pleasure and the material world. Note that the lovers are wrapped in the Blake's "golden net of marriage." Nevertheless, the moment depicted here is one of erotic fruition, and in some measure represents Blake's ideal of sexuality and sensuality.

The William Blake Tarot explores the mystical vision and artistry of the renowned English painter and poet. Through rich interpretations focused on creative undertakings, it has long been the deck of choice for artists, writers, musicians, and thinkers. For more information about this deck, or to buy your own personal copy, go to www.blaketarot.com.