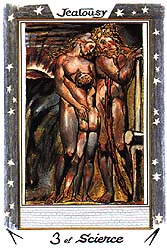 William Blake Tarot
Three of Science (Jealousy)
This is Enitharmon and Los (who represent imagination), and their son Orc (who represents revolution). The child, literally "fed with milk of Enitharmon," is the object of Los's hatred, symbolized by the "chain of jealousy" that dangles from his breast. Los will eventually chain Orc in vengeance. What should be a loving family takes on insinuations of sexual slavery and heartbreak. This is jealousy as mental imprisonment. The chain signifies bondage to sex -- the links of the chain incorporate his erect penis.

The William Blake Tarot explores the mystical vision and artistry of the renowned English painter and poet. Through rich interpretations focused on creative undertakings, it has long been the deck of choice for artists, writers, musicians, and thinkers. For more information about this deck, or to buy your own personal copy, go to www.blaketarot.com.