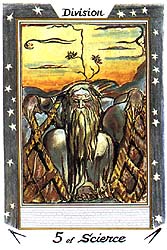 William Blake Tarot
Five of Science (Division)
Urizen is more enmeshed than ever in his web of reason. "None could break the web...so twisted the cords, & so knotted the meshes, twisted like to the human brain." This is the net of logic and Deism that denies divinity. Urizen's net, ironically heart-shaped, divides him from others and from his imaginative potential. Only his right shoulder is caught, but his free left arm free wraps the net tighter. This is the essential division within Urizen's nature: his self-constrictive dualism.

The William Blake Tarot explores the mystical vision and artistry of the renowned English painter and poet. Through rich interpretations focused on creative undertakings, it has long been the deck of choice for artists, writers, musicians, and thinkers. For more information about this deck, or to buy your own personal copy, go to www.blaketarot.com.