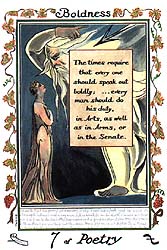 William Blake Tarot
Seven of Poetry (Boldness)
The figure of Joy, depicted as a statuesque young woman in flowing robes, has the blush of life on her cheeks and her expression is notably calm as she looks Death in the eye without flinching. Boldly, she strides toward him with her right or spiritual foot, and her right hand upon her heart emphasizes her sincerity. Joy is the fearless spirit of life. The figure of Death, by contrast, is angry at her boldness, and towers over her menacingly. His left foot is forward, his right hand points backward, and he threatens her with his arrow of destruction (at upper right). Even knowing that you cannot win, with boldness you can still tell the truth.

The William Blake Tarot explores the mystical vision and artistry of the renowned English painter and poet. Through rich interpretations focused on creative undertakings, it has long been the deck of choice for artists, writers, musicians, and thinkers. For more information about this deck, or to buy your own personal copy, go to www.blaketarot.com.